Hello Family Challenge Community!
April's Focus is Understanding the Gospel. If your child is not yet using words, then it is not possible to teach the cognitive material that comprises the gospel. Below is the resources that we find for preschoolers. Use it for future reference or see if your toddler can pick up on some of it! Blessings to you. - Vince
---
INSPIRATION STATION
When I was about 7 or 8, my mom began reading daily devotionals for kids to my sister and me at the breakfast table before school. She would read the story aloud, ask us questions, and then we'd talk about the applications to our lives, like how Jesus would want me to act toward the bully at school when I still wanted to be friends with her. I always appreciated her doing that with us. It helped me to see how Jesus was a part of my life in all areas, not just at church. It also showed me that spending daily time with God was important. My mom also read to us every night before bed, and I remember she would often read to us from our children's story Bible. I think I learned the majority of the Bible stories I knew as a child from her reading that Bible to us. I'm thankful for those practices that she instilled in me from an early age!
~Elizabeth Blankenbeckler, Kindergarten/First Grade Sunday School Teacher


Share and hear stories + join the community on the Family Challenge Facebook Group!

It All Starts with Words
Laying the foundation for a clear understanding of the gospel begins as soon as your child begins to learn language. Try teaching your preschooler one of these words each week. See if he or she can memorize the definition! Provide some positive reinforcement by offering rewards if your child can remember the word and it's definition.
Sin

: Breaking God's Rules
Mercy

: Not getting punished when you do something bad
Grace

: Getting something good when you do something wrong
The Gospel

: Jesus died to give us mercy and grace when we sin, so we can go to heaven!

Start here...
Watch this video as a family a few times with your preschooler. See if your child can sing along. After watching, see if your child can remember any of the colors that were on the fingers.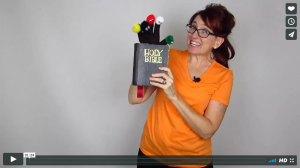 Gospel Fuzzy Song from Kathy Vincent/The Scripture Lady on Vimeo.
---
Each Week Talk about One of these Points
(This Content has been taken from http://scripturelady.com/share-gospel-preschoolers/)
Week 1

: God Wants to Be Your Friend
While God has made preschoolers to be very self-absorbed at this age, they are also learning fundamental social skills. In other words, they are learning how to be a friend. Friendship can be a frustrating road at any age, and preschoolers are also figuring out how to navigate around different personalities. But God can be their very best friend. He'll never make fun of them. He always wants to be with them and He wants to share His love with them. who doesn't want a friend like that?
A friend keeps his promises. Here's a creative way to share with your little ones that God always keeps His promises:
http://scripturelady.com/gods-promises-for-preschoolers/
Week 2

: Sometimes I Do Wrong Things Called Sin
I love CEF's (Child Evangelism Fellowship's) definition of sin: Sin is anything I think, anything I say or anything I do that makes God unhappy. This is the definition I use when teaching about sin to preschoolers. Although they are young, they are becoming very aware when they do something wrong. When you see a preschooler commit a sin, I believe you need to take them aside and lovingly point out what they did wrong, who or what got hurt (if anything), and then point out the truth that God does not like it when we sin. As the Holy Spirit is teaching this child through your leading and guidance, the child will become more aware and sensitive to doing wrong. They must then go and say they are sorry for what they've done and tell God they are sorry, too. Unfortunately, we live in a society that squelches the practice of doling out consequences for our wrong doings, but as Christians, we have an obligation to teach our children early on, that when they sin, they are doing so against God.
Here is a link to give a creative way to share the truth that your children sometimes do wrong things called sin:
All Have Sinned Balloon Bop: A Bible Game Based on Romans 3:23
http://scripturelady.com/all-have-sinned-balloon-bop-a-fun-bible-memory-verse-activity-for-your-preschoolers/
Week 3

: Jesus Died to Forgive Your Sin and Is Alive!
This Gospel point is the Easter story in a nutshell. It's also the most sensitive point to share with preschoolers. While I am a proponent of sharing the message that Jesus died on the cross, I encourage you to be very aware of the sensitivities of the children whom you work with. You should never share the gory details of this part of the Gospel with your little ones. But you can point out the fact that Jesus loved your children so much that He was willing to be hurt for them. Preschoolers already understand pain. They know what it means to bleed and have scrapes and "owies." As the Holy Spirit works in their lives, prayerfully they will become more aware of Jesus' great love for them and slowly, but surely, understand His great sacrifice.
The following is a link to my story, The Little Hill. This is a great rendition of the Easter story at a preschool level.
http://scripturelady.com/the-story-of-the-little-hill-a-preschool-easter-lesson/
Week 4

: I Believe in Jesus! and Someday I'll Live with Him Forever!
The last main point of the Gospel to share with your preschoolers is the chance for them to declare that they believe in Jesus and eternity with Him. As mentioned before, preschoolers don't need to see Jesus to believe in Him. They are children and Jesus said, "Let the little children come to me, and do not hinder them, for the kingdom of heaven belongs to such as these." (Matthew 19:14) I believe God made this profound statement to remind us that our faith in Him must be like that of a little child – you don't have to see to believe.
Should you ask your preschoolers to believe in Jesus? In my opinion, absolutely! Do they know and understand everything about the Gospel? No, but with any kind of learning, you must let the child declare what he does know to be true at the time of his learning. God is using you to help build a relationship with Him truth upon truth.
---
(This Content has been taken from http://scripturelady.com/share-gospel-preschoolers/)