Ephesians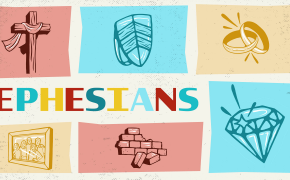 Sermon series starting May 12.
We are doing a sermon series on the book of Ephesians starting on May 12, 2019 through the next several months.
On Sunday mornings, we have services at 9am and 10:45am. Join us to grow in your understanding of Ephesians. If you miss a week, recordings are available at highpointchurch.org/sermons.
To help you continue digest what we're learning, we're doing some special stuff related to this series:
LOCKSCREEN
At highpointchurch.org/lockscreen, you'll find an image for your phone that you can set as your lockscreen. It contains a key verse from the chapter we're in, and is a great way to remind yourself of God's word throughout the day.
PODCAST
At the end of every chapter in Ephesians, there will be a podcast with a discussion between some people in the church about how Ephesians has been impacting their lives. Find them at highpointchurch.org/podcast or your favorite podcast app!