Festival of Booths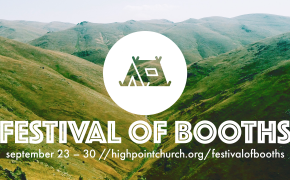 We'll be celebrating the Festival of Booths from September 27-30. Find out more here!
In the Old Testament, the Israelites celebrated the Festival of Booths in order to remember their time in the desert—they had not yet gotten to the promised land, but were cared for by God in their temporary shelters.

Together, we'll remember that we do not yet live in our permanent home, and that we are looking forward to a greater home—by living in tents, celebrating together at night, and remembering God's goodness to us.
---
JOIN US
We've reached our capacity for campers staying overnight at Mendota County Park, however if you'd like to attend the times where we gather for our times of fellowship and worship, we'd love to have you there! Here is the schedule for the long weekend:
Thursday
6:30pm - S'more around the campfire
7-8pm - Worship and discussion/prayer time
Friday
6:30pm - S'more around the campfire
7-8pm - Worship and discussion/prayer time
Saturday
8am - Breakfast feast together - bring a dish to pass!
9-10:15am - Worship and discussion/prayer time
Come spend time with one another on Saturday - activities and games will be available throughout!
5pm - Dinner feast together - bring a dish to pass!
6:30pm - S'more around the campfire
7-8pm - Worship and discussion/prayer time
---
WHY ARE WE DOING THIS?
We're doing this as an extension of the Rhythms of Joy series in the spring. We're forgetful creatures—and so we need rhythms in our lives to remind us of all the reasons we have to be joyful and thankful to God. He has given us everything we need for life and godliness, and having intentional times set aside for celebration and memory remind us of that truth.
Not only are we doing this to generally remember that God has been good to us, but we're also doing this to specifically remember that where we are now is not our home. We belong to God, and we will not be at rest until we reach our home in heaven. Just as the Israelites longed for the promised land while they were in the desert, we'll live in temporary shelters to rekindle a longing for our real home—our home in heaven. It's going to be nice to go home after living in a tent or a camper—it's going to be infinitely better to go home to heaven.
Because this is a way to help kindle a yearning for our heavenly home, challenge yourself to stay at least one day longer than you would normally feel comfortable with. If that means you stay all week, great! If you don't want to stay at all and it means you only come one day, that's good too. And if you can only stay one day, try and stay from the evening of Saturday, September 29 until Sunday morning, so we can all have one evening together.
---
WHAT ARE THE DETAILS?
You probably heard previously that we would be staying on High Point Church's East Lawn. Some of those details have changed:
One, we found out that we can't actually get the permit we wanted in order to have camping out on our East Lawn.
But two, we decided that there is actually a much better option than that anyway. For the same price as a shower trailer rented in our lawn, we found out that we could rent all of Mendota County Park—a campground about 10 minutes from High Point. By renting out the campground, we'll be able to do much more of what we want to do!
We'll have the campground available to us on Thursday night, all of Friday, all of Saturday, and Sunday morning—September 27 – 30. And I was informed that the staff and elders are apparently going to be there all three nights