Garage Sale Treasures
You never know what you'll find at a garage sale.

Garage sales are a normal summertime activity, confirming the perennial truth that "one man's trash is another man's treasure." For me, garage-saling could be considered a sport – I tend to stop and shop much more than I toss out or sell off, much to my wife's chagrin. But our garage sale in late May ended up being a much different experience.
With sun shining bright all weekend, God sent hundreds of people our way. There was plenty to be had by all, but it seemed as if the deals and steals were all mine. We raised $626 after a two-day sale and 100% of proceeds will support my work with Syrian refugees in Germany this July. And I got rid of stuff I no longer wanted by selling off backpacks, sleeping bags, bikes, a tent, board games, jigsaw puzzles and books.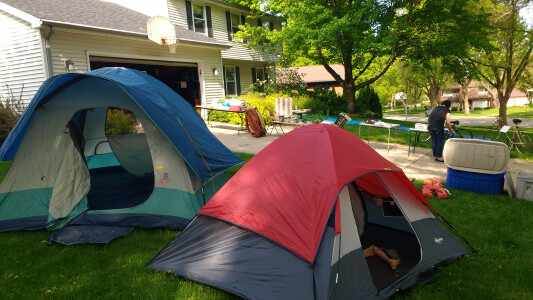 But beyond developing in me a new focus on downsizing (and a new bond with my wife, Sue), God used this garage sale to share our faith with some unlikely people. I was prepared to reach out to fellow campers, retired guys, fellow dog-lovers, new neighbors, old friends, international students, athletes and biker-kids. But a self-proclaimed atheist caught me totally off guard, especially when he spent an inordinate amount of time pawing through the many Bibles and Christian literature I had for sale.
I asked him, "Why?" Then, in the course of our conversation, I learned that his mom, who used to read Bible stories to him, had died last fall. His dad was entering hospice soon. With this in mind, I suspect he was facing his own end-of-life questions. So I helped fill a bag with helpful resources, including Lee Strobel's A Case for Faith. We exchanged names and phone numbers for a follow-up conversation.
Far from the maddening crowds, Sue also ministered to our recently widowed neighbor—one who cries daily, even though it's been eighteen months since her husband died. She feels overwhelmed with clearing out the belongings of a pack-rat husband (like me). We invited her to High Point Church and Lucina Gibson's next GriefShare group. She lives next door, so we will be connecting with her again.
Since then, Sue has connected with two other hurting neighbors she met at a recent progressive dinner for the Walnut Grove neighborhood. None of this would have happened without the garage sale.
Garage sales are a part of a normal summer – but they are also outlets for conversations that might be unexpected treasures to neighbors in need. Who knew? God did.